Do you want to live longer?
Come on, dear. Stand up from your couch and walk out of your room, let's move together!Do sports every day, keep your doctor away.As we all know, people who do sports frequently always have a better spirit condition than those who don't. There are no evidences show that fitness enthusiasts must live looger than others, however, I am sure that sports can help you to keep a better condition.Some people may refuse to do sports in a reason of hating the smell of sweat. I want to say to these people that swimming is a good choice for you.Why not bring your swimming gloves and begin your swimming trip?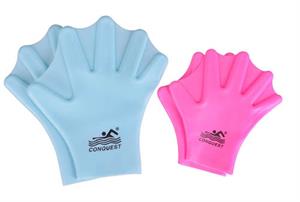 silicone swimming gloves is a product imitating the frog's ankle, which can help you to reduce drag. So that you can swim longer but feel less tired.Swimming is an aerobic exercise that stimulates heart rate and is the best exercise for myocardium. In addition, swimming can help you relieve your mood, reduce your stress, and your mood will be clearer. Acoording to the result research, keeping optimistic is one of a factors influence the length of a man's lifetime. So why not bring your swimming gloves and bigin your trip of sports?