Aluminum alloy has the characteristics of light weight, high strength, corrosion resistance, and easy processing. It has a wide range of uses in various industries, such as decoration, electronic appliances, mobile phone accessories, computer accessories, machinery and equipment, aerospace, transportation, military industry, etc. field. Below we focus on the application of aluminum alloy in the aerospace field.
In 1906, German Wilm accidentally discovered that after a certain period of time at room temperature, the strength of aluminum alloy would gradually increase with the prolonged storage time. This phenomenon was later called the age hardening phenomenon, and as one of the earliest core technologies to promote the development of aviation aluminum alloy material technology, it attracted widespread attention. , Rolling, extrusion, forging, heat treatment and other material processing technology, the manufacture and cnc machining aluminum alloy parts, the characterization and improvement of material structure service performance and other aspects have carried out in-depth research.
The aluminum alloy used in the aviation field is usually called aviation aluminum alloy. It has a series of advantages such as high specific strength, good cnc machining and formability, low cost and good maintainability. It is widely used in aircraft main structure materials. In the future, the design requirements of the new generation of advanced aircrafts such as flight speed, structural weight reduction and stealth will be improved, and the specific strength, specific rigidity, damage tolerance performance, manufacturing cost and structural integration requirements of aviation aluminum alloy will be greatly strengthened.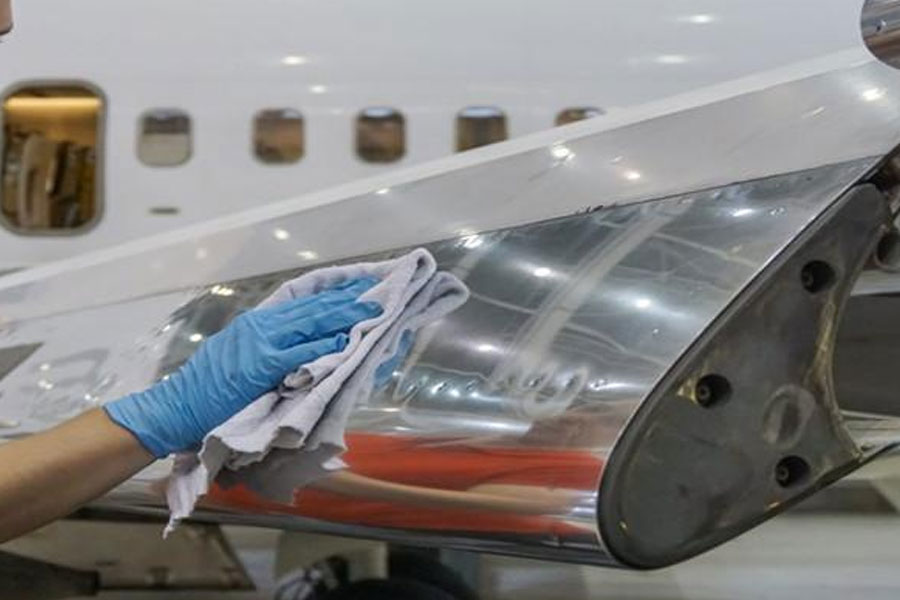 Here are some examples of specific uses of several grades of aviation aluminum alloy.
2024 aluminum sheet, 2A12 aluminum sheet, has high fracture toughness and low fatigue crack growth rate. It is the most commonly used aircraft fuselage and under-wing skin material.
The 7075 aluminum plate was successfully developed in 1943. It was the first practical application of 7xxx aluminum alloy. It was successfully applied to the B-29 bomber. The strength of 7075-T6 aluminum alloy was the highest among aluminum alloys at that time, but its resistance to stress corrosion and Anti-flaking corrosion performance is very poor.
7050 aluminum plate is developed on the basis of 7075 aluminum alloy, which has obtained better strength, anti-flaking corrosion and stress corrosion resistance, and is applied to the compressive components of F-18 aircraft.
6061 aluminum plate is the earliest 6XXX series aluminum alloy used in aviation. It has good corrosion resistance and excellent welding performance, but the strength is moderately low.
7075 aluminum plate, 2024 aluminum plate and other aviation aluminum plates have also been widely used in aerospace, aviation production, aviation parts processing, drones and other fields.
Link To This Article: The Application Of Aluminum Alloy In Aircraft Manufacturing Field
Reprint Statement: If there are no special instructions, all articles on this site are original. Please indicate the source for reprinting:https://www.cncmachiningptj.com/,thanks!
---
PTJ – As an accomplished China CNC machining company and CNC shop, PTJ Hardware Co., Ltd has been specialized in OEM CNC lathing, custom CNC machining parts production and rapid CNC machining services China for over 12 years and always maintaining the highest standard in delivery speed and reliable quality of precision CNC manufacturing components. With the help of high-level technology and efficient equipment, as well as rigorous attitude, we passed the ISO9001:2015 quality certification, which supports the long-term development of PTJ CNC milling services, CNC turning services, CNC milling-turning, CNC drilling services, 3/4/5 axis machining, swiss machining services, CNC machining China custom parts and service, small parts machining, etc. PTJ professional CNC parts machining involves CNC metal parts manufacturing, plastic CNC machining, and some difficult materials. Our CNC machining products can be utilized in a broad range of industries..PTJ will strategize with you to provide the most cost-effective services to help you reach your target,Welcome to Contact us (

[email protected]

) directly for your new project.