Nowadays, many families are slowly using silicone kitchenware. Why is silicone kitchenware so popular? Because silicone kitchenware is a kind of food-grade silicone product that has no odor and is very resistant to high temperatures, and the things that kitchen tableware touches are generally high temperature, silicone kitchenware can cope with this very well.
HIGH-QUALITY SILICONE SPATULA SET. One piece seamless design with stainless core inside gives extra strength and flexibility to easy cooking, baking, mixing or scraping. This silicone spatula set won`t break easy like Plastic spatulas.
SAFE TO USE. This spatula set is made of BPA-free silicone and is heat resistant up to 480°F. There is no loose parts, they don`t melt or scratch kitchenware. Soft surface of silicone is friendly to skin even use by children. All this guarantees safe cooking for you and your family.
EASY TO CLEAN. This non stick, stain resist, silicone spatula can be cleaned in the same way as any cooking utensils. Just put them in to the dishwasher or rinse under warm soapy water. Due to the seamless design there are no places in the spatulas where dirt and bacteria would stick.
EASY TO STORE. Holes at the end of handle make spatulas perfect for hanging on the kitchen wall.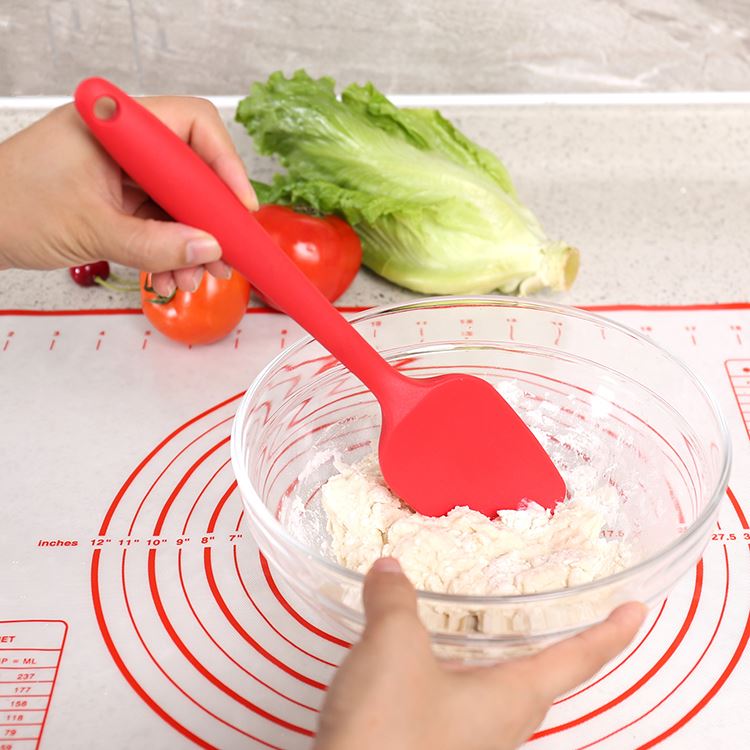 These silicone utensils for cooking are made from the highest quality food-grade organic silicone which is safe to use for any type of food and it does not react with food or beverages, or produce any fumes, so the kitchen utensils set is absolutely safe for your family's health.
Silicone heads cannot scratch or damage nonstick cooking pots, pans and woks like metals do. This makes them very friendly when dealing with non-stick surfaces. Cooking with the non stick silicone utensils set will protect your cookware from any scratches.
This kitchen utensils set will satisfy all your needs for cooking. Every one of them has its unique use. It would be your great companion in the kitchen.And they are longer-lasting than other kitchen utensils.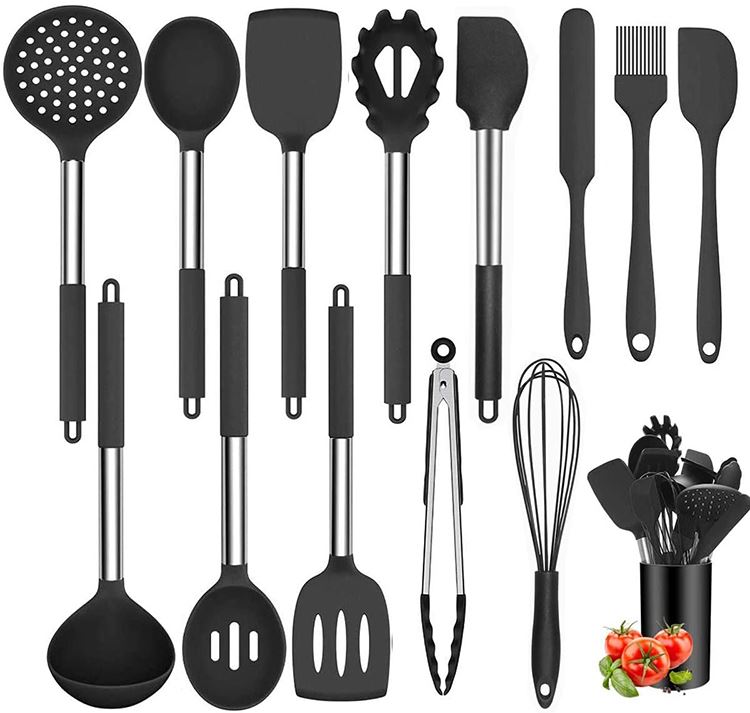 Silicone oven mitts that are thick heat resistant potholders made from premium food grade material; Mittens are rated to protect you from heat up to 446℉(230℃) ; High quality mini mitt set helps you to grip hot items safely in your kitchen or at your outdoor barbecue;silicone oven mitts can protect your hands from a hot cast iron handle or microwave dish
As each mitt is suitable for both left and right hand, you can slip on and off breezily. The soft silicone material makes you feel comfortable.
The silicone oven mittens are great kitchen accessory and necessary. It actually solved the problem that avoiding hands burned by pot or something hot.