Are you want to replace some kitchenware recently? What is the heat insulation parts of your kitchenwares made of? Is it Plastic? If it is plastic, you'd better to replace it.
I work in Weishun silicone, a manufaturer in China producing silicone products. And because of that, I have a chance to know more knowledges about silicone products and its producing process. A silicone pot handle holder, for example.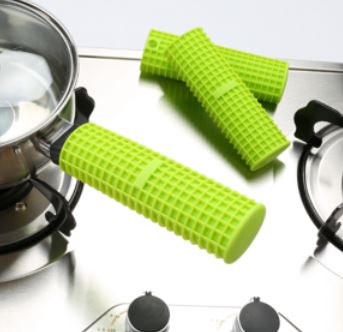 I know that there still some people hold an opinion that silicone is the same thing of plastic. This idea is wrong. Though silicone is cheap and easy to get like plastic, however, silicone is a FDA approved food grade material, can direct contact with food. In addition, it is more environmental friendly than plastic. Silicone is durable and inert, so silicone products usually are durable and having a longer service life than plastic products.Silicone pot handle holder sold in our store is made of food grade silicone. FDA and LFGB test certify thatour products is non-toxic and safe to use in kitchen. If you are interest in our products, why not send us a message?